Mission Statement: Understanding, documenting & communicating terrestrial arthropod diversity.
The R. M. Bohart Museum of Entomology, founded in 1946, is located on the University of California, Davis campus. The museum is dedicated to teaching, research and service. We have the seventh largest insect collection in North America, and is worldwide in coverage. The collection holdings total more than seven million specimens of terrestrial and fresh water arthropods. The museum is also home of the California Insect Survey, a storehouse of the insect biodiversity of California's deserts, mountains, coast, and the Great Central Valley.
---
Entomology \ˌen-tə-ˈmä-lə-jē\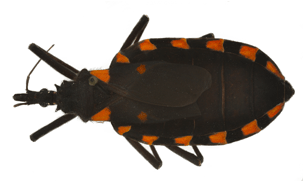 Assassin Bug, Family Reduviidae, Photo by Andrew Richards.
---
Click  the above photo of t.v. personality Huell Howser visiting the Bohart for a Chapman University  archived video of his travel show "California's Gold" Road Trip to UC Davis.
This is a comprehensive article written by Profs. Suarez and Tsutsui, graduates of UC Davis.